Группа Justice, cозданная двумя парижанами Gaspard Auge и Xavier de Rosnay, впервые продемонстрировала свой звук, призывающий к пого танцам в ремиксе Simian's 'Never Be Alone'.
http://www.myspace.com/etjusticepourtous
Justice - Live @ Radio Fritz (13.09.2007)
http://depositfiles.com/files/1817053
1. Justice - d.a.n.c.e (jackson and his computer band "do the j.a.h.c.b." remix)
2. Boys Noize - And Down
3. Some song that reminds me of Daft Punk/DJ Falcon, anyone?
3.1. Outlander - The Vamp
4. Zongamin - Bongo Bong Song
5. TEPR - Minuit Jacuzzi (data remix)
6. Chic - Everybody dance (absolute oldie)
7.Benjamin Theves - texas Sebastian remix
8.Alex Gopher- Dust
9. Justice-Phantom part 2 (soulwax remix)
10. Franki Valli - Who Loves you
11.Das Pop-Underground
12. Julien Clerc-Quand je joue
13. Proxy - Decoy
14. Justice - Stress
15. ZZT - Lower State of conciusness
16. Pharohe Monch - Simon Says
17. Alessi brothers - Oh Lauri
(Спасибо ClubMusic Community @ LiveJournal и colder_nymphus)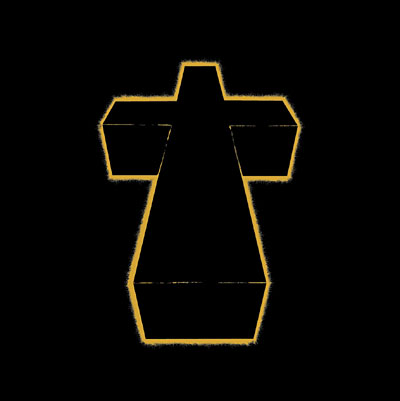 JUS†ICE - † [2007]
ARTiST: Justice
TiTLE: "†" (Cross)
LABEL: Because
GENRE: Electronic
TiME: 48:13 min
SiZE: 73,4 MB
BiTRATE: VBRkbps
RiP DATE: Jun-14-2007
RELEASE DATE: Jun-18-2007
Track List:
01. Genesis 03:55
02. Let There Be Light 04:56
03. D.A.N.C.E. 04:02
04. New Jack 03:37
05. Phantom 04:22
06. Phantom Pt. II 03:21
07. Valentine 02:56
08. The Party 04:03
09. Dvno 03:56
10. Stress 04:59
11. Waters Of Nazareth 04:25
12. One Minute To Midnight 03:41
Release Notes:
You know Justice, AKA Xavier de Rosnay and Gaspard
Auge. French duo, remixed Simian to create the
titanic 'We Are Your Friends', the
anthem-that-will-not-die, that's wrecked dancefloors
from backstage Glasto to Trash to Euro-resorts.
Groovy Parisians who have the balls to name their
new single, or dare we say, their new hit -
'D.A.N.C.E' - and in caps would you believe. But you
can when you're called Justice and in all but three
years have revolutionized dancefloors all over the
world.
For their debut album Justice decided they needed to
escape Xavier's bedroom. They rented a cheap
basement in the centre of Paris and fixed it up a
little. Gaspard: 'We made this album with equipment
that everyone can afford. We don't have enough
knowledge of sound engineering and things to use
really fancy equipment. That's what makes it
exciting for us.' And Lord, what excitement Justice
serve up. ,'Genesis' kicks things off with a big fat
squelch, before setting the ball rolling with 'Let
There Be Light'. And you want your heart melted?
Justice will do that too, with 'The Party'. It's a
sweet and tender love song, featuring the reigning
rude kid of the Paris hip hop/R&B scene, Uffie.
'†' is an pan-genre future-pop mash-up fun-rocket of
an album: 'We tried to make something a bit
universal in the feeling that you can hear by
listening to the tracks. Some are happy, some are
sad, some victorious. We didn't try to do mental
music or show off our producing skills. It was just
about emotion.' says Gaspard. Xavier: 'We are making
music by chance, just because we did We Are You
Friends - we didn't know we would be musicians for
the next few years. We stared from zero. It's cool
to arrive in a discipline and not know anything and
just try to do things.' And so it came to pass: in
the case of Justice and the boogie-down,
hands-up-in-the air brilliance of '†', ignorance is
bliss.
http://rapidshare.com/files/40876149/Justice-Cross-_Retail_-2007-uF.ra...